SpaceX and NASA aim for historic launch
12 min ago
SpaceX: We have our fingers crossed
SpaceX began what's called the "Go/No-go poll" now that we're about 45 minutes away from liftoff.
Right now, the weather is still a bit rough, and it's not clear if conditions will ultimately look good enough to light the engine when the countdown clock runs out.
"Everything is trending in the right direction," said SpaceX's John Insprucker. "We've got our fingers crossed."
SpaceX decided to move forward with fueling the rocket. More than 1 million pounds of propellant will be funneled into the Falcon 9 over the next half hour. Meanwhile, the astronauts are still sitting tight inside the Crew Dragon capsule, which sits atop the rocket.
12 min ago
Weather update: Not looking good
SpaceX's John Insprucker said the latest update on weather from the 45th Space Wing is "red." That's the code for weather too severe to permit liftoff.
It's still possible things will clear up before the liftoff time of 4:33 pm ET.
35 min ago
SpaceX's special cargo: An art piece and a nod to the 2020 graduates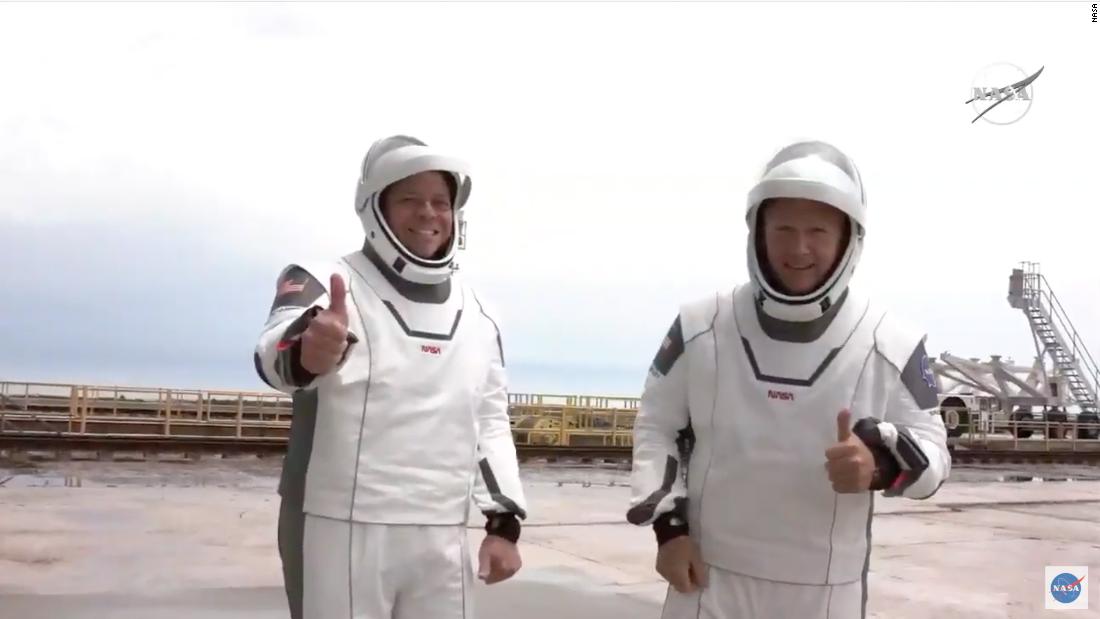 SpaceX put a couple pieces of special cargo on board with the astronauts for today's launch.
First, a piece of art made of gold, brass and aluminum — meant to signify how far the space program has come and how far humanity has to go in exploring the cosmos.
Second is a mosaic of more than 100,000 photographs of 2020 graduates from all over the world. The composite image makes up an image of planet Earth.
41 min ago
How NASA and SpaceX keep an eye on the weather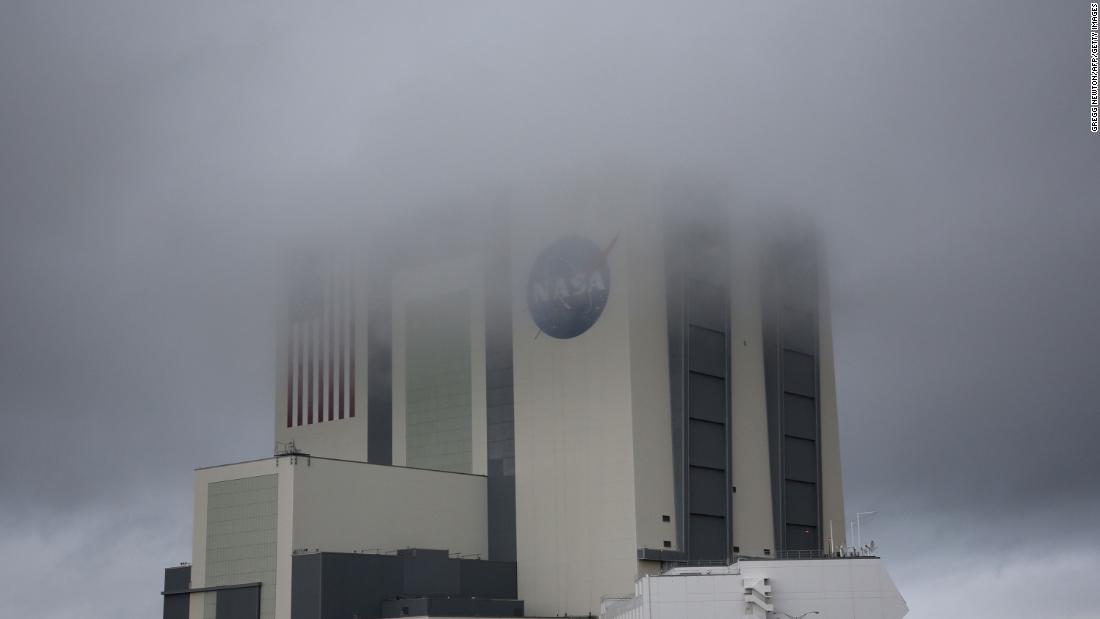 To make sure this rocket makes it safely into Earth's orbit, SpaceX and NASA will need a bit of luck when it comes to Mother Nature.
The 45th Space Wing, an arm of the US military, is constantly monitoring the weather — both at the launch pad and across a broad stretch of the Atlantic Ocean.
The team uses all sorts of instruments, including radars and weather balloons, to ensure that the rocket will have a smooth ride all the way through the upper atmosphere. And conditions are monitored at sea as well: If the rocket misfires and SpaceX's Crew Dragon capsule needs to use its emergency abort system to jettison the astronauts to safety, they'll land in the ocean. And that means officials must ensure that landing won't be made more dangerous by a severe storm or rough waves, so they scan a massive stretch of the Atlantic Ocean all the way to the coast of Ireland.
The 45th Space Wing's weather squadron keeps in constant contact with SpaceX officials, and together they make the final call on whether to move forward or hold off on launch.
1 hr 26 min ago
President Trump flies by launch pad on Air Force One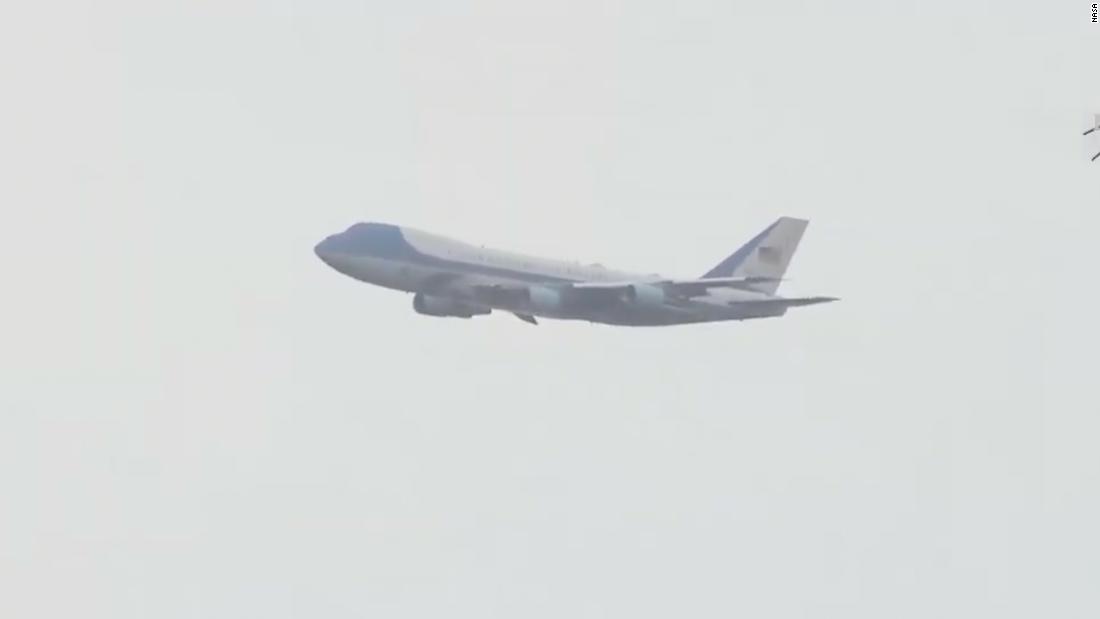 President Donald Trump just arrived at Kennedy Space Center aboard Air Force One, and the plane took a quick detour over the launch pad to get a good view of the SpaceX rocket and Crew Dragon capsule.
The aircraft will land at the Shuttle Landing Facility — the same site where Space Shuttle orbiters used to land when they returned from space.
1 hr 28 min ago
NASA astronauts are locked in to spacecraft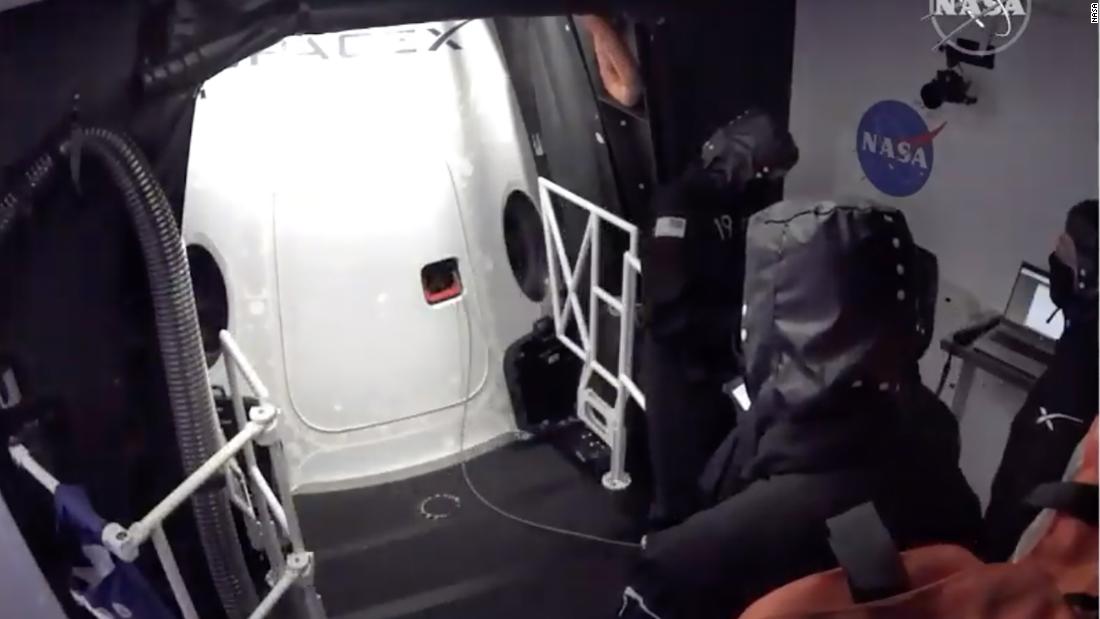 After taking a brief moment to keep an eye on the weather, the hatch was closed on the SpaceX Crew Dragon capsule holding astronauts Bob Behnken and Doug Hurley.
They'll stay locked inside the capsule, waiting for liftoff, while launch officials continue to monitor for storms and technical issues leading up the 4:33 pm ET liftoff time.
Just now, SpaceX carried out a series of communications checks to make sure the astronauts have contact with mission controllers at NASA's Johnson Space Center in Houston and SpaceX's mission control in Hawthorne, California.
On acronym you may hear flying around on the livestream during checks is "GNC" — which stands for "Guidance, Navigation and Control."
1 hr 38 min ago
How much is this going to cost?
NASA has paid SpaceX a total of more than $3 billion via a fixed-price to build and test Crew Dragon. And one new analysis from the nonprofit Planetary Society suggests that, compared to previous NASA programs, the deal is a bargain.
As for the Russian Soyuz spacecraft, which has been the only vehicle capable of carrying humans to the International Space Station for a decade, there isn't really a straightforward comparison.
Soyuz seats have cost NASA up to about $86 million each and around $55 million on average over the past decade, according to a 2019 report from NASA's Office of the Inspector General.
That same report estimates that Crew Dragon seats will cost NASA about $55 million each. But those are estimates based on a contract that doesn't clearly define the per-seat cost.
1 hr 1 min ago
Tornado warning near Kennedy Space Center
It's still more than two hours until liftoff time, but conditions aren't looking great.
Brevard County, home to the Kennedy Space Center launch site, was briefly under a tornado warning. That warning ended at 2:15 pm ET without any visible twisters coming near the launch site.
Flashes of lightning and thunder claps are a common occurrence, but weather officials are hoping it will pass before takeoff at 4:33 pm ET.
Thick clouds, some lightning and thunder strikes at the launch pad. A few minutes ago, we heard an alert go off warning of severe weather. BUT it can still pass before liftoff.
Astronauts Bob and Doug just strapped in to the SpaceX Crew Dragon capsule.
2.5 hours to liftoff time pic.twitter.com/hNvTdgYWOC

— Jackie Wattles (@jackiewattles) May 27, 2020
1 hr 22 min ago
Elon Musk: I never thought this day would happen
Speaking on NASA's livestream, SpaceX CEO Elon Musk reflected on today's launch:
This is a dream come true, I think for me and everyone at SpaceX. This is not something I ever thought would happen. When starting SpaceX in 2002, I really did not think this day would occur