Titanic Submersible: The Tragic Fate of 5 People on Board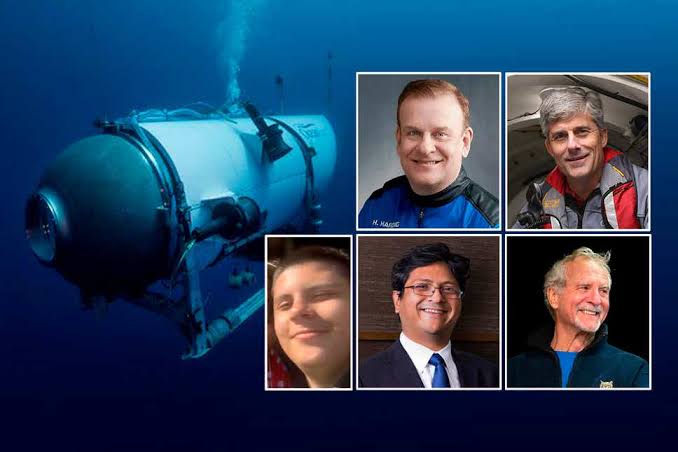 The Titanic submersible, a tourist craft that was exploring the sunken shipwreck, has been declared lost with no survivors after a frantic search operation in the North Atlantic Ocean.
iexclusivenews reports that the US Coast Guard announced on Thursday that debris from the vessel had been found, confirming the worst fears for the five people on board.
The missing passengers and crew included the CEO of the tour company, a French submarine expert known as "Mr Titanic", a British aviation tycoon and a Pakistani businessman and his son. Here is what we know about them and their doomed expedition.
 

Stockton Rush
Stockton Rush was the founder and chief executive of OceanGate Expeditions, a Washington-based company that operates the Titanic submersible, named Titan.
The sub is designed to carry five people — a pilot and four passengers — and is made of carbon fiber and titanium, according to OceanGate's website. It measures 6.7 meters in length and is designed to reach depths of 2.5 miles (4 kilometers) .
Rush had a remarkable career as a pilot, engineer and entrepreneur. He began his career in 1981 as the youngest jet transport rated pilot in the world, aged 19. In 1984, he became a flight test engineer on the F-15 fighter jet program for the McDonnell Douglas company.
He later ventured into several ocean-related tech businesses, including Seattle's BlueView Technologies, which makes small, high-frequency sonar systems. He founded OceanGate in 2009 with the vision of making deep-sea exploration accessible to more people.
After facing several challenges and delays in getting the proper permits and equipment, OceanGate Expeditions started taking paying customers to the Titanic's wreck in 2021. Rush was one of the pilots of the Titan submersible and had made several dives to the site before the tragic accident.
Paul-Henri Nargeolet
Paul-Henri Nargeolet, 77, was a French submarine operator and one of the crew members of the Titan submersible. He had a long and distinguished career in the French navy, where he served for 25 years and commanded several submarines .
He was also an avid diver and explorer, who had dived all over the world and spoken openly about the risks of his exploits in the most inaccessible waters of the world's oceans.
He was nicknamed "Mr Titanic" for his extensive knowledge and experience of the shipwreck. He had undertaken more than 30 dives to explore the Titanic and had supervised the recovery of around 5,500 objects, including a fragment weighing 20 tonnes that is displayed in Los Angeles .
He also co-authored a 2022 book where he challenged the official findings of British and American enquiries into the 1912 disaster, arguing that five smaller holes were to blame rather than a 100-metre gash that followed Titanic's collision with an iceberg .
Hamish Harding
Hamish Harding, 58, was a British aviation tycoon and adventurer who had three Guinness World Records and had recently become a space tourist through Amazon founder Jeff Bezos's Blue Origin company ⁴.
He founded Action Aviation, a company that buys and sells aircraft with offices in Dubai and London's Stansted airport. UK media reported that he was a billionaire who lived in UAE .
He had also lived in India for five years, where he was managing director of a logistics company, before establishing Action Aviation in 2004 .
His Guinness records were for longest duration and distance traversed at full ocean depth by a crewed vessel (which he achieved on board the Titan submersible), and the fastest circumnavigation via both Poles by plane .
Shahzada and Suleman Dawood
Shahzada Dawood, 48, was a prominent Pakistani businessman who was vice-chairman of Karachi-headquartered conglomerate Engro. His son Suleman, 19, was a university student. Both had British citizenship .
A statement by their family-run holding group Dawood Hercules described Shahzada as a "loving father" to two children with a keen interest in "photography, especially wildlife photography, and exploring different natural habitats" .
Engro had an array of investments in energy, agriculture, petrochemicals and telecommunications. At the end of 2022, the firm announced revenue of 350 billion rupees ($1.2 billion) .
Shahzada's father Hussain Dawood is regularly listed among Pakistan's richest men by the domestic press .
The Search and Rescue Operation
The Titanic submersible went missing on Sunday morning, after it failed to resurface from a dive to the wreck site. The US Coast Guard launched a massive search and rescue operation, involving aircraft, ships and underwater vehicles, covering an area about two times the size of Connecticut on the surface and going down as deep as two-and-a-half miles.
The search was complicated by the harsh weather conditions, the vastness of the ocean and the limited communication capabilities at such depths. The submersible had an estimated 96 hours of life support, setting up Thursday morning as a key target for finding the vessel and those on board .
During the search, banging noises were detected from underneath the water, raising hopes for survivors. However, it remained unclear whether the noises were from the missing submersible or from other sources .
On Thursday, the US Coast Guard announced that debris from the vessel had been found, indicating that it had suffered a catastrophic failure. The Coast Guard said that there was no hope of finding any survivors and that the search was now a recovery mission .
The cause of the accident is still unknown and under investigation. OceanGate Expeditions said in a statement that it was "devastated" by the loss and that it was working with authorities to provide support to the families of those on board .