N6.9bn fraud: See Why FG Failed to arraign Emefiele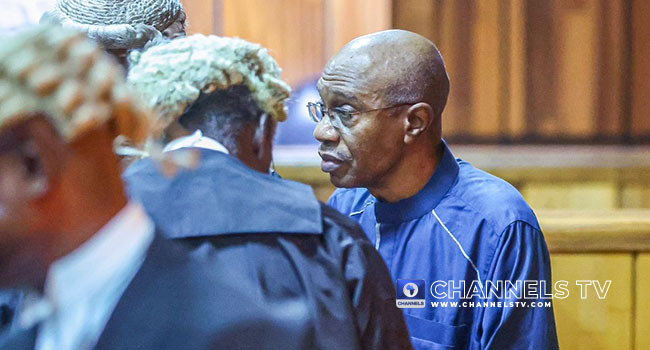 Fresh information has come to light regarding the Federal Government's failure to file charges against suspended Central Bank of Nigeria Governor Godwin Emefiele and his co-defendant at two hearings scheduled for them to enter their pleas in relation to an alleged N6.9 billion procurement fraud.
At the Federal Capital Territory (FCT) High Court in Maitama, Mr. Emefiele, the Central Bank of Nigeria (CBN) governor who has been placed on leave, and Sa'adatu Ramallan-Yaro were scheduled to be charged with corruption in the amount of N6.9 billion.
However, the Department of State Services (DSS) was unsuccessful in prosecuting Mr. Emefiele and Ms. Ramallan-Yaro. The DSS has both defendants in its care.
In the matter that was supposed to be heard by Judge Hamzat Muazu at the Maitama Division of the FCT High Court, neither the defense team nor the prosecution led by DPP Mr. Abubakar were present in court.
Akinlolu Kehinde, a Senior Advocate of Nigeria (SAN), and Abdulhakeem Labi-lawal, the attorney for Ms. Ramallan-Yaro, were not present.
The judge had to reschedule the two's arraignment after Ms. Ramallan-Yaro's absence due to illness on August 17 forced Mr. Emefiele to appear in court without her.
Mr Emefiele was charged alongside Mrs Ramalan-Yaro, and her company, April 1616 Investment Limited.
Mr. Emefiele and Mrs Ramalan-Yaro, a CBN staff member, were accused of conspiracy and corruption involving the procurement of vehicles worth as much as N6.9 billion for the CBN.
The charges alleged that Mr Emefiele conferred corrupt advantages on Ms Ramalan-Yaro, using her firm, April 1616 Investment Limited, to execute a series of procurement contracts spanning years.