UK Warship Arrives in Nigeria, See Why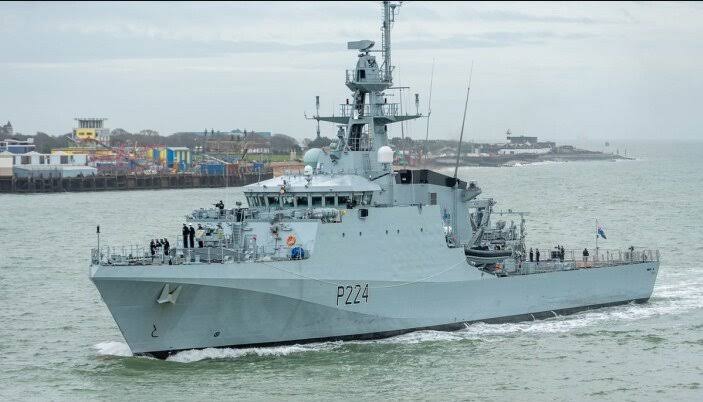 LAGOS, (iexclusivenews) -As part of its regional mission to combat illegal activities at sea, the UK Warship Royal Navy's HMS Trent arrived in Lagos, Nigeria, on Wednesday. 
The UK warship, which is the third of the new Batch 2 River-class offshore patrol vessels, will provide capacity training and support to the Nigerian Navy and other West African partners.
HMS Trent: Features and Capabilities
The UK warship HMS Trent is a modern and versatile ship, designed to deploy globally and conduct a range of tasks.
Such as counter-terrorism, counter-piracy, anti-smuggling, fishery protection, border patrol, humanitarian aid, and defence diplomacy.
The ship has a length of 90.5 metres, a beam of 13.6 metres, a displacement of 2,100 tonnes, and a maximum speed of 24 knots.
It can accommodate up to 50 crew members and troops, and has a flight deck capable of landing a Merlin helicopter.
It is also equipped with a 30 mm DS30B gun, four 0.5″ heavy machine guns, two general purpose machine guns, and a Puma surveillance drone.
The ship has a range of 9,000 nautical miles and an endurance of 35 days.
UK warship HMS Trent was laid down in 2015 and commissioned in 2020. It is based in Portsmouth  and is forward deployed to Gibraltar for operations in the Mediterranean Sea and the Gulf of Guinea.
This is the second time that HMS Trent has visited Nigeria, after its first visit in 2021.
MORE NEWS: 
Morocco Earthquake: A Rare and Deadly Disaster
Tribunal Sacks Imo PDP Reps Member, Ikenga Ugochinyere
'Cold War' Between NAPIMS Boss, Bala Wunti And NNPC Head Honcho, Mele Kyari Rages On
HMS Trent: Mission and Objectives
HMS Trent's mission is to support West African allies in developing their capability to fight illegal crimes at sea and ensure they can play an effective role in bringing stability to the wider region.
The UK Warship will conduct training exercises with the Nigerian Navy and other partner navies, share knowledge and best practices, foster ties and cooperation, and patrol the waters to increase security.
The Gulf of Guinea is a strategic area for maritime trade and security, it accounts for around £6 billion of UK trade annually.
However, it is also a hotspot for piracy and armed robbery, which pose a threat to international shipping, seafarers' lives, local economies, and regional stability.
According to the International Maritime Bureau (IMB), the Gulf of Guinea accounted for nearly half (43%) of all reported piracy incidents in the first three months of 2021, including all 40 kidnapped crew incidents and one crew fatality.
HMS Trent's deployment contributes to a wider international effort by the Friends of the Gulf of Guinea (FOGG).
Which supports Gulf of Guinea nations to implement regional maritime security frameworks and address the root causes of piracy and armed robbery.
FOGG is a network of countries and organisations that share a common interest in enhancing maritime security in the region.
HMS Trent: Statements from Officials
HMS Trent's Commanding Officer, Commander Tim Langford, said: "It is an honour for HMS Trent to return to Nigeria, an important visit on the ship's three month deployment to West Africa.
"We are excited to work with our partner nations as we strive for a long-term solution to maritime insecurity across the region.
"The Royal Navy has a long history of engagement within the region and an enduring partnership with the Armed Forces of Nigeria.
"My team is really looking forward to the opportunity to work with their Nigerian counterparts and build on the relationships established when we visited Lagos in 2021."
UK Deputy High Commissioner in Lagos, Jonny Baxter, said: "This deployment demonstrates how a truly global Britain is stepping up on the world stage to tackle shared international security challenges.
"Nigeria is an important and valued defence partner for the UK in West Africa. Our two countries face many shared threats and we are keen to work with Nigeria to defeat these and to help improve maritime security in the Gulf of Guinea."