Israel Intensifies Its Strikes, Vows To Besiege Gaza As It Scours South For Hamas Fighters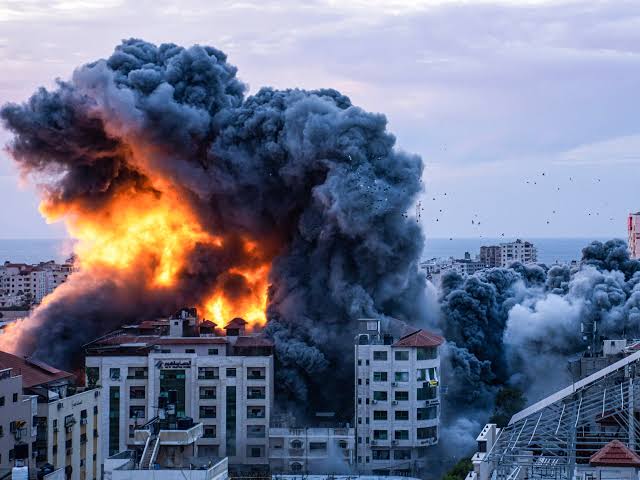 JERUSALEM (AP) — Israel's military scoured the country's south for Hamas fighters, guarded breaches in its border fence and pounded the Gaza Strip from the air on Monday as it vowed to lay total siege to the impoverished, Hamas-ruled territory in the wake of an unprecedented weekend incursion.
More than two days after Hamas launched its surprise attack from Gaza, the military said the fighting had largely died down for now. Israel's vaunted military and intelligence apparatus was caught completely off guard, bringing heavy battles to its streets for the first time in decades.
Israel formally declared war on Sunday, portending greater fighting ahead, and a possible ground assault into Gaza — a move that in the past has brought intensified casualties. Prime Minister Benjamin Netanyahu has vowed to destroy "the military and governing capabilities" of the militant group, which is deeply rooted in Gaza.
As Israel hit more than 1,000 targets in Gaza and its tanks and drones guarded openings in the border fence to prevent more infiltrations, Palestinian militants continued firing barrages of rockets, setting off air raid sirens in Jerusalem and Tel Aviv. Video posted online appeared to show a plume of smoke near a terminal at Ben Gurion International Airport. There was no immediate word on casualties or damage from the latest bombardment.
Israel declares war, bombards Gaza and battles to dislodge Hamas fighters after surprise attack
But civilians have already paid a high price. Around 700 people have been killed in Israel — a staggering toll by the scale of its recent conflicts. Nearly 500 have been killed in Gaza, an enclave of 2.3 million Palestinians bordering Israel and Egypt.
MORE NEWS: 
Israel Declears War On Hamas After Attack From Gaza
Israel-Hamas War: A Deadly Escalation in the Middle East
Palestinian militant groups claimed to be holding over 130 people captured in Israel and dragged to Gaza. The armed wing of Hamas claimed on its Telegram channel that four of them were killed in Israeli airstrikes. That could not be independently confirmed.
Israeli Defense Minister Yoav Gallant, meanwhile, ordered a "complete siege" on Gaza, saying authorities would cut electricity and block the entry of food and fuel. Israel and Egypt have imposed various levels of blockade on the territory since Hamas seized power from rival Palestinian forces in 2007.
Gallant said Israel was at war with "human animals," using the kind of dehumanizing language often employed by both sides at times of soaring tensions.
After about 48 hours of pitched battles inside Israel, the chief military spokesman, Rear Adm. Daniel Hagari, told reporters Israel has "control" of its border communities. He said there had been some isolated incidents early Monday, but that "at this stage, there is no fighting in the communities."
But he added that militants may remain inside Israel, and said that 15 of 24 border communities have been evacuated, with the rest expected to be emptied in the coming day.
Earlier, Hamas spokesman Abdel-Latif al-Qanoua told The Associated Press over the phone that the group's fighters continued to battle outside Gaza and had captured more Israelis as recently as Monday morning.
He said the group aims to free all Palestinian prisoners held by Israel, which in the past has agreed to painful, lopsided exchange deals in which it released large numbers of prisoners for individual captives or even the remains of soldiers.
In its airstrikes, Israel's military said it leveled much of Beit Hanoun — a town in northeast Gaza that Hagari said Hamas was using the as a staging ground for attacks. There was no immediate word on casualties, and most of the community's population of tens of thousands likely fled beforehand.
Hagari said the army had called up around 300,000 reservists — a massive mobilization.
He reiterated that the goal is to decimate Hamas' military and governing capabilities. Hamas has ruled Gaza since driving out forces loyal to the internationally recognized Palestinian Authority in 2007 and its rule has gone unchallenged through the 16-year Israeli and Egyptian blockade and four previous wars with Israel. Continue Reaching : apnews.com
(AP)