Google Pixel 5 makes an appearance on AI Benchmark running a Snapdragon 765G and 8GB of RAM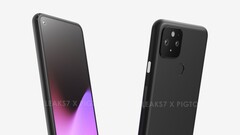 The yet-to-be-announced Google Pixel 5 has allegedly shown up on AI Benchmark. Test results indicate that the phone is running a Qualcomm Snapdragon 765G SoC along with 8GB of RAM. Google is expected to unveil the Pixel 5 and Pixel 4a 5G later this year.
Some rumors from earlier this year indicated that the Google Pixel 5 was ditching flagship Qualcomm Snapdragon 8xx series chip in favor of mid-range alternatives. One of the likely candidates was Qualcomm's 5G-ready Snapdragon 765G. While Google is yet to tell us more about the Pixel 5's innards, the phone has reportedly made an appearance on a benchmarking software.
Myfixguide stumbled upon what appears to be a Snapdragon 765G-powered Google Pixel 5 on AI Benchmark. This particular variant seems to be paired with 8GB of RAM; 2GB more than last year's Pixel 4 series. Furthermore, the phone's overall benchmark score is on par with other devices running the Snapdragon 765G, such as the Oppo Find X2 Lite and Xiaomi Redmi K30.
Google's decision to stick with a 'mid-range' chipset for the Pixel 5 will be disappointing for many. However, it will allow the company to lower the Pixel 5's cost by quite a lot, as the Snapdragon 865 is quite pricey. The Pixel 4 series received a lot of flak for its prices. To make matters worse, Google could not sell both phones in many countries due to its radar-based tech. With smartphone prices breaching the $1,500 mark, it is good to see at least one OEM taking a different approach.