GTCO Autism Conference 2023: Empowering Voices For Autism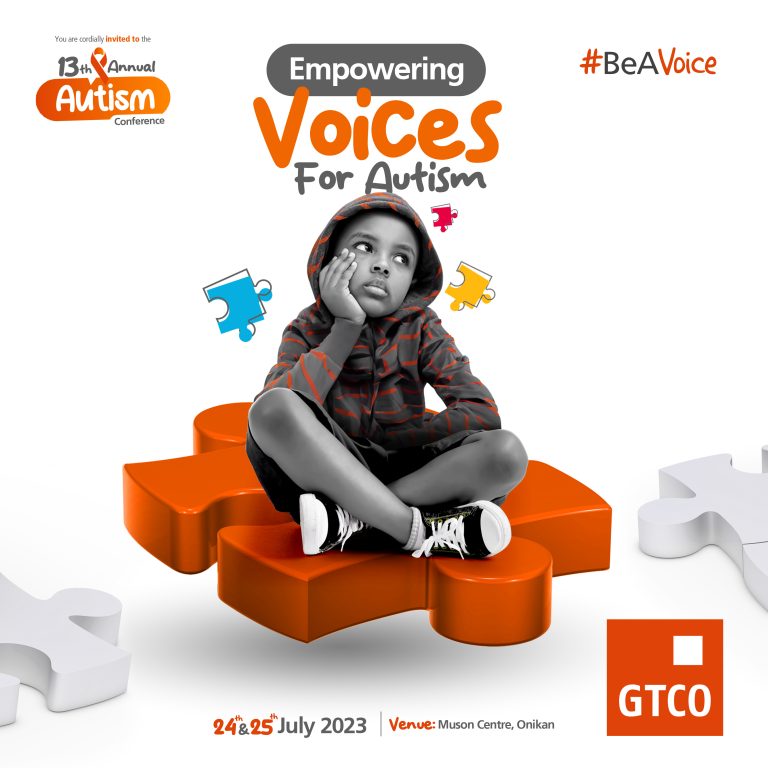 The GTCO Autism Conference and follow-up consultations for 2023 have been announced by Guaranty Trust Holding Company Plc (GTCO). This year's theme is "Empowering Voices for Autism," with the goal of promoting inclusivity and self-advocacy for those on the Autism Spectrum.
The GTCO Autism Conference, an offshoot of the Orange Ribbon Initiative, has developed to become a reference point for autism advocacy and intervention throughout Africa, bringing support and empowerment to thousands of people with neurodevelopmental disorders.
The conference, which will be held in collaboration with specialists and partner organisations both within and outside of Nigeria, will include lectures, panel discussions, and performances that have been carefully prepared to showcase the diverse talents that exist in the autism community, while also providing a platform for people with ASD and their families to connect and share ideas with subject-matter experts on various aspects of autism spectrum disorder, including its nature and management. The conference will be held in Nigeria on the 24th and 25th of July at the Muson Centre in Lagos, while the free one-on-one clinic will be held from the 26th to the 29th of July at the Chapel of Light, Alausa, Ikeja
The activities in Ghana will begin with a workshop on August 1st at the University of Professional Studies in Accra, Ghana, followed by consultations from August 2nd to 5th at the same location. Mr. Segun Agbaje, Group Chief Executive Officer of Guaranty Trust Holding Company Plc, commented on the 2023 GTCO Autism Conference, saying, "Society thrives when varied individuals with their distinct opinions, viewpoints, and cultures are accepted and cherished."
READ ALSO: Graduates get digital skills through the DigiCorper programme from Polaris Bank, NYSC, and Nerdzfactory
As a result, it is critical that people on the autism spectrum have the opportunity to achieve and be empowered to live their lives to the fullest.".
"We are delighted by the evolving insights on autism management and are committed to ensuring that more and more people with autism spectrum disorder (ASD) may find their voice and accept their individuality while contributing meaningfully to society," he added.
GTCO is a significant financial services conglomerate with banking activities in Nigeria, West Africa, East Africa, and the United Kingdom, as well as new businesses in payment, funds management, and pension fund administration. Its banking industry leadership and efforts to empower people and communities have earned it numerous major honours over the years. The bank was recently named Africa's Best Bank and Nigeria's Best Bank at the 2021 Euromoney Awards for Excellence.
It also preserved its position as Africa's Most Admired Financial Services Brand in The Brand Africa 100: Africa's Greatest Brands 2022 rating. Please visit https://csr.gtbank.com/ for more information about the GTCO Autism Conference and free consultations.
For more information on the GTCO Autism Conference and free consultations, please visit: https://csr.gtbank.com/autism