Benjamin Mendy Ex-Man City Player Acquitted of Rape Charges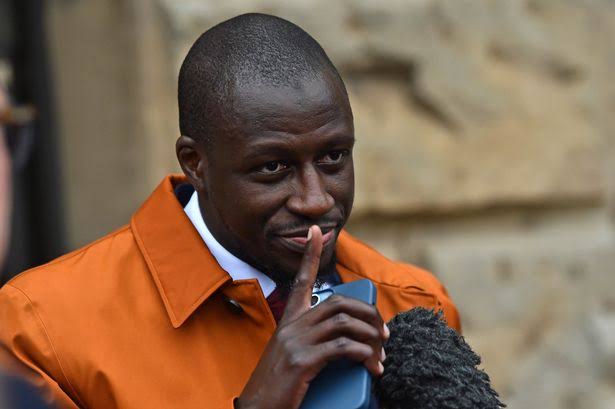 Benjamin Mendy, the ex-Manchester City footballer, in a highly anticipated verdict, has been found not guilty of rape and attempted rape charges.
iexlusivenews reports that the 28-year-old athlete was accused of assaulting a 24-year-old woman at his luxurious £4m mansion in Mottram St Andrew, Cheshire, in October 2020.
Additionally, he faced allegations of attempted rape by another woman, aged 29, who claimed she was also subjected to inappropriate advances at his residence two years prior.
Following a three-week trial at Chester Crown Court, Mendy was overcome with emotion as the jury foreman announced the not guilty verdicts.
The Acquittal and Emotional Relief
The jury deliberated for approximately three hours and 15 minutes before unanimously reaching the verdict of not guilty. Overwhelmed by the outcome,
Benjamin Mendy broke down in tears. The presiding Judge Steven Everett subsequently declared his discharge from the dock.
This legal victory comes after Mendy was acquitted of six rape charges in an earlier trial held in January, where he was also cleared of one count of sexual assault involving four young women or teenagers.
Allegations and Testimonies
The trial shed light on the events leading to the accusations against Mendy. Prosecuting attorney Benjamin Aina KC asserted that the footballer had taken advantage of female guests during parties held at his residence.
The first complainant, referred to as woman A, disclosed that she had initially met Mendy at a nightclub in Barcelona in late 2017, and over time, they became acquainted.
In a subsequent visit to the footballer's house, where they stayed after a night out with others, she alleged that Mendy entered her en-suite bathroom uninvited, in a state of arousal, and proceeded to attempt rape despite her explicit objections.
Defense and Alternate Narratives
During the trial, Benjamin Mendy presented his side of the story. He claimed that he and the first complainant had engaged in flirtatious behavior throughout the night and that the following morning, he visited her room, where they shared hugs on a bed.
According to Mendy, the complainant informed him that she would not engage in sexual activities due to her relationship with his friend.
Mendy further stated that the complainant became upset when he disclosed his prior conversation with his friend, who had expressed consent. The footballer vehemently denied any attempt to rape her.
Additional Accusations and Circumstances
Another complainant, referred to as woman B, testified that she and her friends were invited to Mendy's house in Alderley Edge, Cheshire, near the footballer's residence. According to her account,
Mendy took her phone, which contained intimate photos, and led her to his locked bedroom, where he asked her to undress. She claimed that despite her objections,
Benjamin Mendy proceeded to rape her, callously stating afterward that he had been intimate with 10,000 women.
Mendy disputed this narrative, contending that the encounter was consensual and that they even exchanged contact information to connect on Snapchat.
The Legal Battle and Its Toll
During the trial, the prosecution argued that Mendy was unaccustomed to being denied sexual encounters due to his wealth and celebrity status.
The defense countered these claims, stating that Mendy never forced himself upon anyone. Following the acquittal, Mendy's solicitor,
Jenny Wiltshire, expressed gratitude to the jury for focusing on the evidence rather than the rumors and innuendos surrounding the case.
She emphasized that this was the second time Mendy had been tried and found not guilty, affirming the correctness of the verdicts.
Wiltshire acknowledged the profound impact the legal process had on Mendy and requested respect for his privacy as he endeavors to rebuild his life.
What You Should Know 
Benjamin Mendy, the former Manchester City footballer, has been cleared of all charges related to rape and attempted rape. After enduring two trials, he has now been found not guilty by a jury, prompting relief and a plea for privacy as he embarks on rebuilding his life.