How Hong Kong Influencers Were 'Arrested for Cryptocurrency Fraud'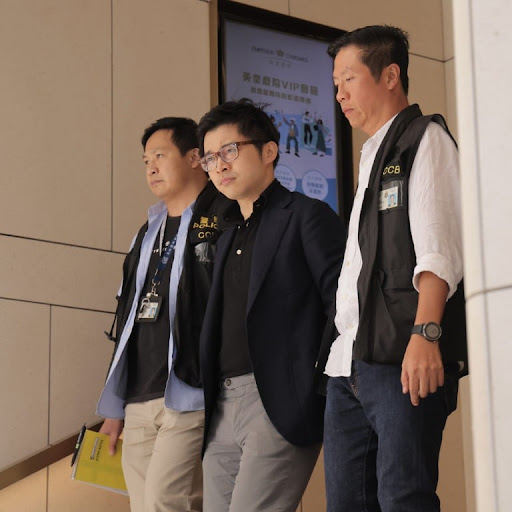 (iexclusivenews) – Two popular Hong Kong influencers, Joseph Lam Chok and Chan Yee, have been arrested by the police for their alleged involvement in a cryptocurrency fraud scheme that may have cost investors over HK$100 million (US$12.8 million).
Who are Joseph Lam Chok and Chan Yee?
Influencer Joseph Lam Chok was also formerly an insurance agent. Photo: Instagram/@jolamchok
Joseph Lam Chok is a former lawyer who became an internet celebrity after posting videos and photos of his lavish lifestyle on social media platforms such as YouTube, Instagram, and Facebook. He has over 1.2 million followers on YouTube alone, where he showcases his luxury cars, watches, and travels.
Chan Yee is another influencer who has more than 221,000 followers on her YouTube channel, where she posts beauty and lifestyle videos. She is also known for being a friend of Joseph Lam Chok and appearing in some of his videos.
What is JPEX and how did they promote it?
Bags of cash are among items seized by police. Photo: Jelly Tse
JPEX is a cryptocurrency trading platform that claims to offer high returns on savings products and low fees on transactions. According to its website, JPEX is regulated by authorities in the United States, Canada, Australia, and Singapore.
However, the Securities and Futures Commission (SFC) of Hong Kong has warned that JPEX has not filed any licence applications with them or any other regulators, and that it has made false or misleading statements to attract investors.
The SFC also said that JPEX has used key opinion leaders (KOLs), who are often paid promoters, to endorse its platform on social media. Joseph Lam Chok and Chan Yee are among the KOLs who have promoted JPEX to their followers, claiming that they have invested in it and received high returns.
MORE NEWS: 
How the UK Crime Agency is Fighting Crypto Crimes with Blockchain Experts
FTX: The Rise and Fall of a Crypto Exchange Giant
What are the allegations against them?
Police also take away boxes of evidence from Lam's office. Photo: Jelly Tse
The police have received more than 1,000 complaints from investors who said they have lost money or been unable to withdraw their funds from JPEX. The police suspect that JPEX is a Ponzi scheme that uses new investors' money to pay off old investors.
The police have arrested Joseph Lam Chok and Chan Yee on suspicion of conspiracy to defraud. They have also raided their offices and seized evidence, including cash, computers, and documents.
The police have also raided an over-the-counter (OTC) virtual asset money changer in Tsim Sha Tsui East, which is believed to be linked to JPEX.
The investigation is ongoing and the police have urged anyone who has invested in JPEX to contact them as soon as possible.
What is the background of Joseph Lam Chok?
Joseph Lam Chok was once a lawyer who worked for several law firms in Hong Kong. He was also an insurance agent for Prudential Hong Kong.
However, he quit his jobs and became an influencer after gaining fame online. He is known for his extravagant spending habits and controversial behavior.
In June 2023, he sparked outrage when he posted a photo of himself wearing the same outfit as a suspect who had killed two people at Plaza Hollywood in Diamond Hill. He later apologized and deleted the photo.
He is also facing a lawsuit from his former employer Prudential Hong Kong, which accuses him of breaching his contract and misusing confidential information.
Source: scmp.com