Kanye West and Bianca Censori Spotted Radiating Love in West Hollywood Stroll
Beside him, his new "wife," Bianca Censori, radiated confidence and elegance in her attire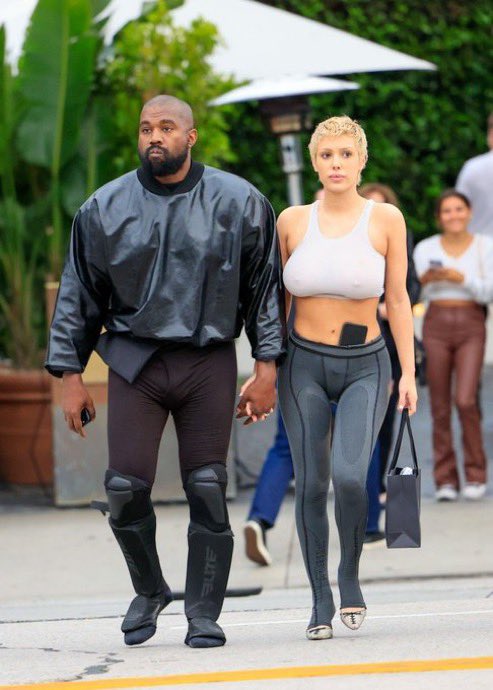 Kanye West, a fashion mogul and his new "wife" Bianca Censori were recently seen hand-in-hand, exuding affection as they took a leisurely walk through the vibrant streets of Los Angeles, California.
The power couple, known for their individual successes, seemed to have found solace and happiness in each other's company.
Their enchanting evening began with a culinary delight at the renowned Italian restaurant, Cecconi's, located in the heart of West Hollywood.
Known for its modern take on classic Italian cuisine, Cecconi's offers a sophisticated dining experience.
With hand-made pasta, delectable seafood, and dishes that showcase the finest ingredients from Italy.
RELATED NEWS:
Kanye West Secretly Married To Yeezy architect Bianca Censori – Report 
Kanye and Bianca savored each bite, immersed in conversation and laughter. Creating an intimate ambiance that seemed to be an extension of their profound connection.
As they ventured out onto the bustling streets of West Hollywood. Kanye West, a visionary artist renowned for his fashion empire, captured attention with his distinctive all-black ensemble.
What Bianca Censori is wearing
His figure-hugging black trousers featured futuristic padding on his shins, adding a touch of avant-garde flair to his laidback look.
Completing his ensemble, he wore a bulky black synthetic sweater, with its round neckline and wrist-length sleeves exuding an effortless coolness.
Beside him, his new "wife," Bianca Censori, radiated confidence and elegance in her attire.
Clad in skintight grey ski-pant-style leggings, which tastefully hugged her curves, she showcased her impeccable fashion sense.
The leggings, paired with high heels, created an alluring juxtaposition of sportiness and sophistication.
Bianca opted for a grey sports-bra-esque top, appearing braless and embracing her natural beauty.
Her platinum blonde hair cascaded down her shoulders, adding a touch of glamour to her ensemble.
The couple's public display of affection painted a picture of deep love and companionship.
Despite their secret ceremony lacking legal standing, with no marriage license filed, Kanye proudly wore a wedding band on his ring finger.
The ring, a symbol of their commitment, signified the bond they shared.
What You Should Know 
According to TMZ, the platinum band represented their dedication to each other, even without the legal formalities.
It was a declaration of their love, a gesture that transcended societal norms.
Bianca Censori, an Australian architect, had been an integral part of Kanye's professional life long before their informal marriage.
Starting as an employee at Yeezy in November 2020. She quickly rose through the ranks and currently holds the prestigious position of Head of Architecture.
Her expertise and passion for building design are evident in her work, and her contributions to Yeezy have been instrumental in shaping the brand's architectural vision.
Holding a Master's degree in building design from Melbourne University. Bianca combines her talent and knowledge to create awe-inspiring structures that marry art and functionality.
As Kanye and Bianca strolled through the vibrant streets of West Hollywood, they seemed at ease, basking in the joy of their shared journey.
Their genuine smiles and affectionate gestures spoke volumes about the depth of their connection.
Fans and onlookers couldn't help but be captivated by the sheer magnetism exuded by the couple.
The question of what lies ahead for Kanye West and Bianca Censori remains unanswered, shrouded in mystery.
Yet, their public appearances and displays of love hint at a promising future.
Together, they embark on a path that intertwines their artistic endeavors and personal lives.
Leaving a lasting impression on the realms of music, fashion, and architecture.
As their love story unfolds, the world eagerly watches, captivated by the magic created by this extraordinary couple.