Luis Rubiales Faces Backlash Over Kissing Player as Mum Goes on Hunger Strike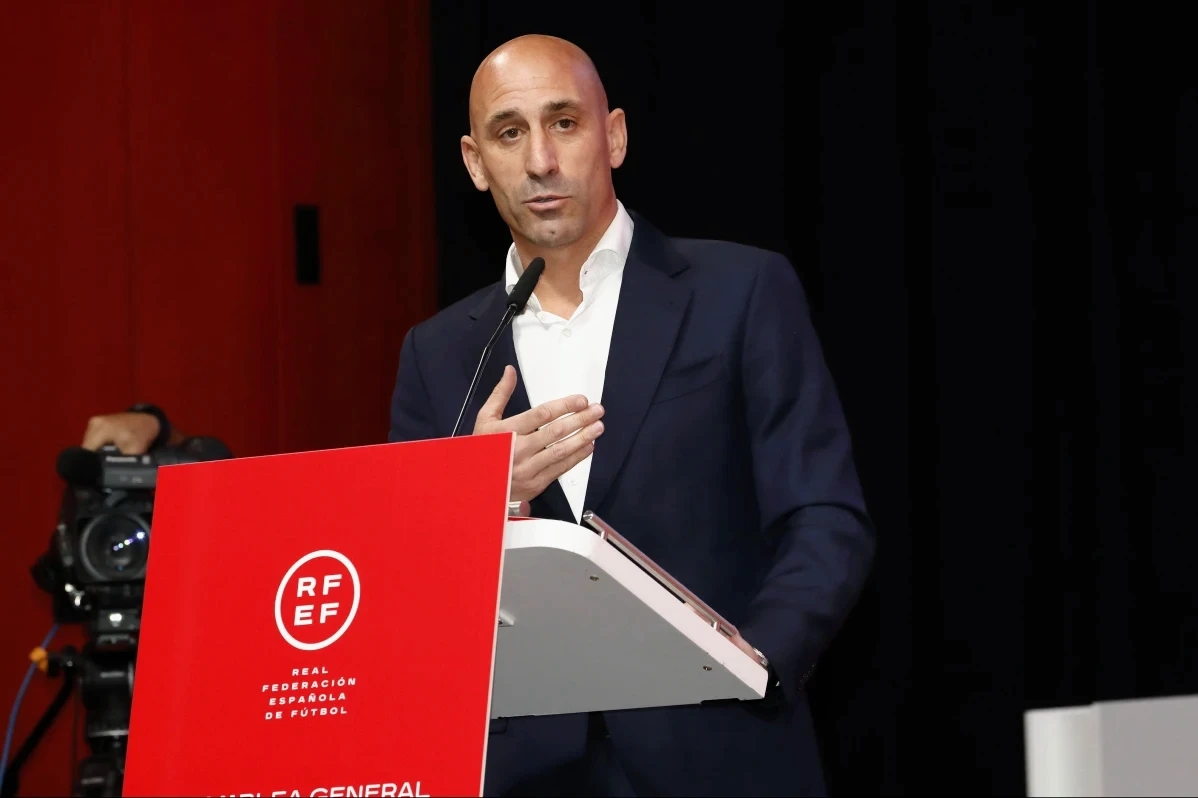 The Spanish soccer federation president, Luis Rubiales, is facing a severe crisis after he kissed a female player during the Women's World Cup awards ceremony.
His mother has started a hunger strike in a church to defend him. While the player has accused him of sexual abuse and FIFA has suspended him for 90 days.
The Controversial Kiss
iexclusivenews recall that the incident that sparked the scandal happened on Sunday, August 20, 2023, in Sydney, Australia.
Spain had just won the Women's World Cup for the first time, beating Germany 2-1 in the final.
During the medal ceremony, Rubiales approached Jenni Hermoso, who scored both goals for Spain, and kissed her on the mouth.
The kiss was captured by cameras and broadcasted live to millions of viewers around the world.
Many people interpreted it as a form of sexual harassment and an abuse of power by Rubiales, who is married and has two children.
Hermoso, who plays for Barcelona, said she felt "humiliated" and "violated" by the kiss.
She said she did not consent to it and that it was "a surprise attack."
Hermoso also said that the federation tried to pressure her into supporting Rubiales and that she received threats and insults from his supporters.
Luis Rubiales, who is a former player and union leader, denied any wrongdoing. He said that the kiss was "mutual" and "a gesture of affection" between two friends.
Rubiales said he had known Hermoso for years and that they had a good relationship. He also said that he was overcome by emotion after Spain's historic victory.
The Fallout
The kiss was not the only controversial action by Rubiales during the celebrations. He also grabbed his crotch in a victory gesture while in the presidential box and close to the queen of Spain and her teenage princess daughter. This was seen as disrespectful and vulgar by many observers.
However, iexclusivenews reports that FIFA, the world soccer body, decided to intervene and provisionally suspended Rubiales on Saturday, August 26, 2023, for 90 days.
FIFA said that Rubiales had violated its code of ethics and that it would open an investigation into his conduct.
Spain is hoping that the country's sports tribunal will remove Rubiales definitively and appoint a new president for the federation. The tribunal has the power to do so under Spanish law.
Meanwhile, Luis Rubiales has refused to resign and has defended himself in a defiant speech. He said he was the victim of a "witch hunt" and a "media lynching."
Rubiales said he had done nothing wrong and that he would fight to clear his name.
The Hunger Strike
In a show of solidarity with her son, Ángeles Béjar, mother of Rubiales, has started a hunger strike in a church in Motril, a town in southern Spain where Rubiales was born.
Béjar told the state news agency EFE that she would remain on hunger strike "night and day" until a solution is found to "the bloody and inhumane hounding" of her son.
She said she was proud of her son and that he had done nothing wrong. She said he was being persecuted for his achievements as president of the federation.
Ángeles Béjar also called on Hermoso to "tell the truth" and to stop accusing her son of sexual abuse.
Béjar was joined by other relatives and friends of Rubiales in the church. They held banners with messages such as "Luis Rubiales is innocent" and "Justice for Luis Rubiales."
The Reaction
The scandal has caused a commotion both in Spain and abroad. It has overshadowed Spain's triumph in the Women's World Cup and has tarnished the image of Spanish soccer.
Spain's Prosecutor's Office said Monday they will be in touch with Hermoso to let her know she will have 15 days to contact the office.
So that they can inform her of rights should she wish to file a complaint as an alleged victim of sexual aggression.
Acting deputy PM Yolanda Díaz was meeting with football union representatives with a view to removing Rubiales and changing the way equality issues are run in Spanish soccer.
The Spanish soccer federation was to meet with regional federations about what steps to take following FIFA's temporary suspension of their leader.
Meanwhile, this online news outlet understand that an anti-Rubiales protest was to be held later Monday in Madrid.
The scandal has also sparked a debate about sexism and harassment in soccer, a sport that is still dominated by men.
Many female players and activists have expressed their support for Hermoso and have denounced Rubiales' behavior as unacceptable.
Hermoso has thanked her fans for their messages of solidarity and has said she will not be silenced by intimidation or threats.
She has also said she hopes her case will help raise awareness about the problems that women face in soccer and in society.
Source: AP