Sensational Haaland Hat Trick Ignites Manchester City's Dominance Over Fulham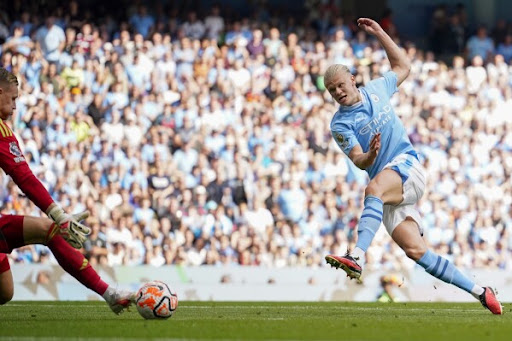 In a thrilling English Premier League encounter, Erling Haaland, fresh off his UEFA Player of the Year accolade, showcased his brilliance by netting a stunning second-half hat trick.
Manchester City, under the stewardship of their absent manager Pep Guardiola, continued their flawless start to the season with a resounding 5-1 victory over Fulham. 
However, the match was marred by controversy in the first half, as a disputed goal left Fulham players and their manager, Marco Silva, incensed. 
iexclusivenews takes you into the details of this exhilarating clash, highlighting key moments and providing in-depth analysis.
Haaland's Heroics Steal the Show
Erling Haaland, recently crowned UEFA Player of the Year, proved his worth with a remarkable hat trick that propelled Manchester City to victory. Haaland performance exemplified his status as one of the world's premier football talents, leaving fans and pundits in awe.
Fulham's Upset Bid Thwarted
Fulham, a team that had drawn against Arsenal and eliminated Tottenham from the League Cup, arrived at the Etihad Stadium with high hopes. Despite their efforts, Fulham's ambitions were quashed by a relentless Manchester City side.
Controversial First-Half Goal
The turning point of the match came just before halftime when a disputed goal sparked fury among Fulham players and their manager, Marco Silva. Nathan Ake's headed goal was allowed to stand, despite Manuel Akanji standing in an offside position and obstructing goalkeeper Bernd Leno's view.
City's Dominant Second Half
After a hesitant start, Manchester City shifted into high gear in the second half. Haaland orchestrated a brilliant comeback with his clinical finishing and impressive teamwork, leaving Fulham struggling to keep pace.
VAR Controversy and Silva's Outburst
Fulham's protests continued even after a VAR review upheld the contentious goal. Manager Marco Silva's anger boiled over on the touchline, resulting in his fourth yellow card of the season. This incident added further drama to an already intense encounter.
In a match filled with twists and turns, Erling Haaland exceptional hat trick and Manchester City's relentless second-half performance secured another triumph in the English Premier League. While controversy marred the first half, the thrilling action on the pitch left fans captivated and eager for more. Manchester City's pursuit of glory continues, promising more excitement in the games to come.
Source: AP